Kream Mall of Africa
100%
What 8 people say about Kream Mall of Africa
100% of the guests recommend this restaurant.
Write a review
---
"Awesome Sunday lunch"
Thank you very much for a wonderful dining experience at Kream Mall of Africa last Sunday. My wife and I thoroughly enjoyed the great food and the excellent service from the staff.
Melly Louw
at 05 May 2021
Verified
---
Enjoyed the food and the service was wonderful. I would advise people to take advantage of restaurant week.
I'm definitely going back to try more of the dishes.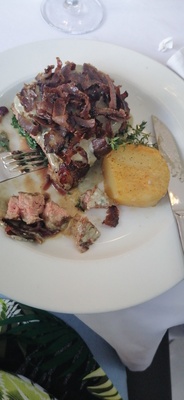 Nompumelelo Ntontela
at 18 April 2021
Verified
---
"Fine dining with large portions"
It was amazing. The food is devine and the service fantastic. I was full at the 3rd course. The fillet steak and the pork belly was delicious.
Karen Fourie
at 15 April 2021
Verified
---
Great experience
Sudhir Maharaj
at 08 April 2021
Verified
---
"Amazing experience and food"
Ill definitely be back
Suzette
at 07 April 2021
Verified
Magwa Cres, Waterval 5-Ir, Midrand 1686 Johannesburg
About Kream Mall of Africa
Cuisine: Fusion, Modern
Founded in 2007 by Tufan Yerebakan, Kream has established and developed itself into a trendy, one-of-a-kind experience for many. Serving delicious modern cuisine in an artistic environment, Kream combines the two to provide a great sensory experience.
Reserve a table
Reserve a table