LivingRoom at Summerhill Estate
100%
What 13 people say about LivingRoom at Summerhill Estate
Write a review
---
Amazing fine dining experience, combining creativity, finesse and precision.
I like the garden to the table concept... Only fresh and local...
I would live in the area, I would definitly come back regularly...
My only regret is to have arrived after doark and not have been able to see the garder where everything starts...
Make yourself a favor, and pay them a visit!
Veronique ORBAN
at Yesterday
Verified
---
"Amazing experience"
Once again a beautiful dining experience at SummerHill. Every course was beautifully presented. Delicious flavour combinations, colours and textures on each plate are stunning! We will definitely be back again. Thank you for a special evening!
Stacey
at 12 April 2021
Verified
---
"Phenomenal experience!"
The continent's best kept secret! The Living Room offers an absolutely sublime culinary experience. The flavour profiles are unlike any other, leaving you in awe. The service is impeccable and friendly. Cannot recommend more!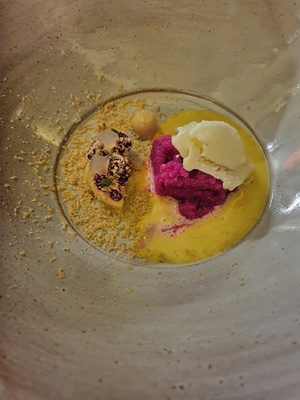 Prinola Moodley
at 11 April 2021
Verified
---
"Fine dining at it's best "
Finest of fine dining. Everything exceed our expectations.
Langa M
at 07 April 2021
Verified
---
Awesome!!!
Zama Khanyile
at 03 April 2021
Verified
9 Belvedale Road, Cowies Hill, Durban 3610 Durban
About LivingRoom at Summerhill Estate
The Livingroom at Summerhill Estate

A story about food.
Their focus lies on portraying Durban's Culinary Identity with the 5 or 7 course tasting menu they offer, being a great way of discovering this cultural Melting pot. Next to the unique food we serve, they also boast a great wine list specialising in smaller estates and big bottles which they can pair with each dish at your wish. Their LivingRoom Supper Club has been nominated as one of South Africa's best 30 Restaurants by the Eat Out Guide, as the only establishment in KwaZulu Natal.
No. 13 by the Eat Out Guide
Whether you're looking for a discreet venue for a romantic evening for 2 or whether your looking for the perfect place to meet with colleagues or customers, their LivingRoom experience is an ideal companion.
Reserve a table
Reserve a table