What 6 people say about La Petite Colombe
Write a review
---
Excellent meal great ambiance
Mahomed
at Yesterday
Verified
---
Outstanding experience. Where can we buy tonka bars?!
Caroline Heap
at Yesterday
Verified
---
" Culinary perfection"
Maskwearing made it difficult to follow explanation of dishes.... perhaps concentrate to talk slower and clearly.
Francois Dowling
at 12 April 2021
Verified
---
Wow, what an incredible experience last night at La Colombe!! The food was incredible but the service was top notch, we were so impressed with our entire experience, it was a real treat!
Tarryn Maree
at 08 April 2021
Verified
---
"Mouth watering delights"
Highly highly highly recommended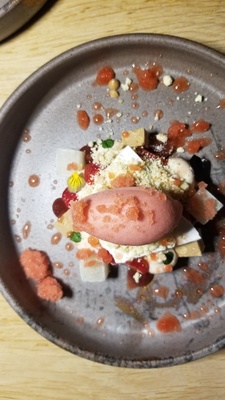 Andrew Mahakata
at 08 April 2021
Verified
Leeu Estates Dassenberg Rd 7690 Franschhoek
About La Petite Colombe
"A meal at La Petite Colombe restaurant is like doing the tango with a stranger. You enter the dance floor uncertain of what to expect, and when the music stops at the end, you are left breathless and speechless. And when words are not enough, only a hearty applause will do. I am clapping loudly right now.."
— Nidha Narrandes, Cape Town Etc.
La Petite Colombe

Contemporary fine dining in Franschhoek, now situated at the beautiful Leeu Estates. The 6th Best Restaurant in South Africa according to Eat Out Guide 2019.

John Norris-Rogers ~ Head Chef

Talented, young Cape Town chef, John Norris-Rogers, was appointed as Head Chef of La Petite Colombe in August 2017.
A 90's child, born in Pretoria, and having lived in Mpumalanga and KwaZulu-Natal, John Norris Rogers decided to make Cape Town his home after he completed school and chose to study at the Silwood School of Cookery, graduating after completing a coveted year-long internship at the award-winning La Colombe, under the mentorship of chefs Scot Kirton and James Gaag.
Reserve a table
Reserve a table