What 55 people say about Foxcroft
100% of the guests recommend this restaurant.
Write a review
---
"Great Evening"
Had the 3-Course menu. Exceptional food and friendly service. Everything was fabulous with the award going to the poached guava desert and one of the best cappuccinos I have had in a while !!! Acoustics needs a bit of work as it was a bit noisy at times but that is nit picking :-)
Matthew Carter
at Today
Verified
---
Great food, exceptional service!
Damon Buss
at Today
Verified
---
"Unpretentious Fine Dining"
Relaxed atmosphere that is not pretentious with stunning, delicious food that is a balance between fancy and hearty food.
Paul Herselman
at Yesterday
Verified
---
"Tasty dishes, delightful service. We'll be back!"
Such a treat find during restaurant week. Keep up the good work!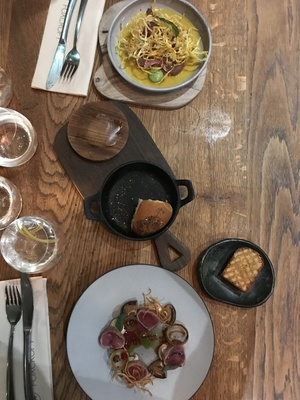 Danielle Coetzer
at 13 October 2021
Verified
---
Fantastic restaurant to visit. Great food , excellent service. Never felt rushed and generous portions.
Monique Wilson
at 12 October 2021
Verified
Shop 8, High Constantia Centre, Groot Constantia Road, Constantia 7806 Cape Town
About Foxcroft
Cuisine: Fine Dining
SOI·GNÉ
/ SWÄNˈYĀ/
French Adj.
PREPARED WITH GREAT ATTENTION TO DETAIL. SHOWING SOPHISTICATED ELEGANCE, CAREFULLY OR ELEGANTLY DONE.
THE GUIDING PRINCIPLE OF FOXCROFT RESTAURANT.
"At Foxcroft, we aim to cook with the same intensity and thoughtfulness as fine dining but in a more casual and approachable format. As a cook, deliciousness must come first and anything not actively contributing to that must be removed. Working together with the best local farmers and the finest international suppliers, every ingredient is selected for seasonality, quality and flavour before entering the kitchen at Foxcroft. With a commitment to quality and flavour, our team of chefs believe in treating simple ingredients with the same care, attention and respect as those of rarity."
- Glen Foxcroft Williams | Chef Proprietor
Reserve a table
Reserve a table