What 3 people say about ERTH
Write a review
---
Very innovative dishes, delicious. Staff very busy but service friendly & knowledgeable. Would be better atmosphere if less customers on laptops & more focus on enjoying the food.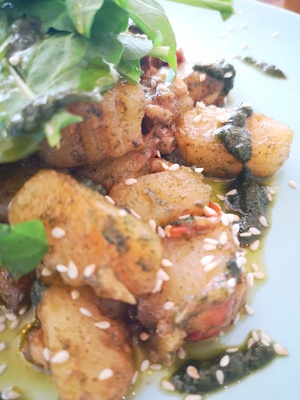 Rom de Buck
at 29 April 2021
Verified
---
"The absolute standout of Restaurant Week - what a gem! "
The food was fantastic at Erth - we were absolutely blown away. We were even given an extra dish at no extra charge which was made from excess food and this supported their zero waste policy. The food was unique, tasty and the service great. I am definitely going here again!
Karen Venter
at 29 October 2020
---
"Great restaurant experience!!!"
This was my first attempt at vegan cuisine and it was well worth it!
The food was tasty and the service great.
The concept is also very unique and we loved it!
Lindsay Knoesen
at 28 October 2020
35 Main Rd, Green Point 8005 Cape Town
About ERTH
ERTH is the eatery Capetonians didn't know they needed. Falling under The Skin Co. brand, ERTH and its zero-waste kitchen combines health and skincare to bring the world's first-ever nutricosmetic restaurant to life.
The brainchild of Devlin Perry, ERTH has recently opened its doors on 35 Main Road, Green Point. The ambiance of ERTH is warm and comfortable, and the decor both minimalistic and chic. Natural light pours in through the floor-to-ceiling windows, casting a golden glow across the dining area. The kitchen is tucked away behind a coffee counter, making you feel as though you're in someone's home rather than at a restaurant.
Reserve a table
Reserve a table